History
Four brothers (Jan, Gust, Simon and Martien) work for Geraerts Bros. They took over the company of their father Harrie. The family Geraerts can look back on almost 5 years growing Christmas trees.
When Harrie got a piece of land from his family he started growing Christmas trees. He introduced Christmas trees to his neighbourhood. After a while Harrie Geraerts met a florist from Rotterdam. He became his first regular customer. After almost 40 years the florist still visits the family Geraerts. The increase in demand has continued steadily over the years and Harrie has expanded his production accordingly, with his sonís support.
The new generation announces itself. Of the 10 children only Jan, Gust, Simon and Martien liked working in Christmas trees. The four boys had been already been employed in the work process: in the autumn to plant the young trees, in the winter to harvest the trees and for the rest of the year spraying, pruning and cleaning the ground. What started from a small beginning has been worked on by the family to a current level of 30/40000 trees annually. Trees are grown in cycles over 2 and 4 years so that there is continuity of supply. Furthermore the company uses a good facilities and equipment: 4 motor tractors, a hoeing-machine, a halfly automatic plant machine, spray equipment, irrigation , 2 mound machines as well as a wealth of working experience.
Nowadays our clients are not only from the Netherlands, but also from Belgium, Luxembourg, Italy, Romania and the United Kingdom. Furthermore we sell to individual buyers.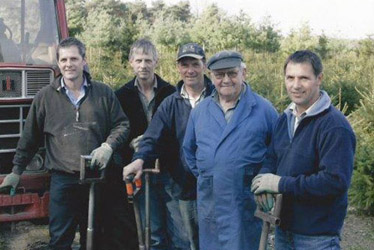 Photo: Siem, Jan, Gust, (father) Harrie and Martien.